James (second right) with his fellow Media and Learning Conference panellists (from left) Annelies Raes of KU Leuven, Brian Beatty of San Francisco State University and Jelle Scheurleer and Zac Wolfitt of in Holland University.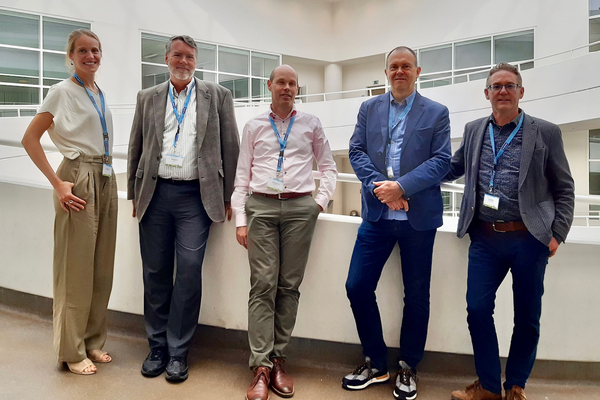 SCHOMS was represented at the 2022 Media & Learning Conference in Belgium by James Rutherford, Senior Educational Technologist and Project Lead in Learning Enhancement and Development (LEaD) at City, University of London. James was also invited to sit as a panel member on a discussion about hybrid teaching. Here, he reports on what emerged from a programme which SCHOMS executive member Joan Sheehan – who had a role on the Media & Learning 22 Conference Advisory Committee - helped to formulate.
The Media & Learning Association – a not-for-profit association to promote innovation and creativity in teaching and learning through the use of media – held its 10th anniversary conference in Leuven, Belgium.
Under the banner of 'University of the Future – Mediated, Pixelated, Hybrid or Virtual?' a total of 90 people from 17 countries contributed to a programme covering developments such as interactive environments for teaching and learning, mainstreaming XR and adding value to media content with AI.
Keynote speakers included educational change expert Erin Crisp of CampusEdu in the USA, who examined the effectiveness of educational video, and Brian Beatty of San Francisco State University on Tomorrow Has Arrived: The Hybrid-Flexible University Experience – after which James Rutherford was joined by Brian Beatty and representatives of both in Holland University and KU Leuven on a panel to discuss 'What next for the Hybrid Virtual Classroom?'
"My fellow panellists came from an academic point of view with research and actual practice while I came from more of a learning technology point of view," said James, who has been heavily involved in developing hybrid learning spaces at City and features in regular 'Teaching Here and There' podcasts on the subject.
"That's the value of SCHOMS' connection to Media and Learning. There's a wider audience and wider discussion, but it's all relevant. It's really helpful in terms of reflecting on other points of view, such as academics and students."
One of the key points to emerge from James' panel discussion was that hybrid teaching could be more appropriate to certain disciplines and cohorts of students.
"It seems to be more effective with postgraduate courses, seminar-based discursive activities rather than large group teaching," he said. "It was also felt that it could take its place in a blended learning curriculum. Learning doesn't have to be hybrid every week for a 10-week term. There could be online and face-to-face sessions as well."
But a new pedagogy had to be developed and shared. "You can't switch your normal teaching delivery to hybrid. Because you've got two audiences, it's really hard to do two different things at the same time. Hybrid teaching has to be well thought through and planned. We talked about the need to collaborate and develop communities of best practice, whether it's pedagogy or how you set up a room," James said.
Overall, James praised the conference as collaborative and helpful. "The networking opportunities were good, like SCHOMS but a broader audience, and it was reassuring to hear how people in different countries, with different education systems, were all going through the same kind of challenges and issues as us."
For further information about Media and Learning and the conference programme:
https://conference.media-and-learning.eu
https://media-and-learning.eu/type/association-news/will-the-university-of-the-future-be-mediated-pixelated-hybrid-or-virtual/

To listen to the 'Teaching Here and There' hybrid learning podcasts featuring James Rutherford:
https://podcasts.apple.com/us/podcast/teaching-here-and-there/id1578123182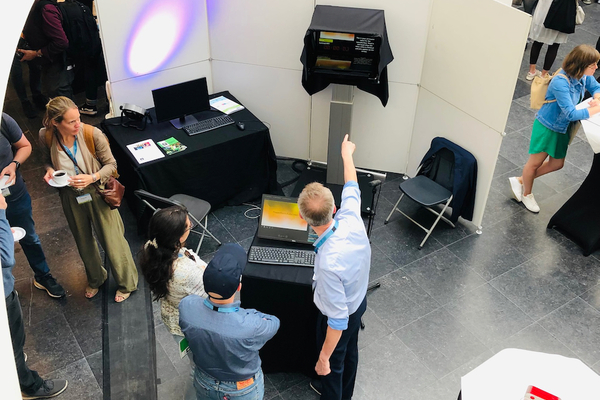 Like SCHOMS at its annual conferences, Media and Learning also hosts a suppliers' exhibition but on a lesser scale. Around a dozen suppliers were represented at Leuven.